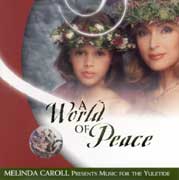 Melinda Caroll presents A World of Peace, an International array of songs & music capturing the nostalgic warmth of Holidays in lush acoustic settings of string quartet, recorder flutes, harp, guitar, piano & percussion, the period pieces include Celtic, German, Scottish & French.
Melinda Caroll and Legend Productions happily present, "A World of Peace", an international collection of songs and music that captures the nostalgia and warmth of Holidays of long ago with an added touch of contemporary yuletide spirit. In a lush acoustic setting of string quartet, recorder flutes, harp, guitar, piano and percussion the vocals take you on a journey of the old Celtic, German, Scottish, English, and French renaissance.
A World of Peace is a project conceived from the notion that Christmas is an international festival of the heart. Throughout the centuries, people have celebrated Christmas with hearts filled with hope and dreams held high. It is a time of miracles and human kindness. Though the languages may be many, the feelings are universal. At no other time of the year does music play such an important role in expressing our joy, our love for one another and renewal of our spirit.
The music on this album is our endeavor at capturing the warmth and nostalgia of Christmases long past and the sentiment of the present Holiday Season.
Many of the songs will be quite familiar as Girl Scout favorites of yesteryear and today.
It is our sincere wish that this music will enhance the Christmas magic around you, bringing joy and peace to you and yours throughout the year.
Includes:
Christmas Medley 
Children Go Where I send Thee 
Jesu, Joy of Man??s Desiring 
A World of Peace 
The Holly and the Ivy 
The Water is Wide
Un Flambeau Jeanette Isabella
The Skye Boat Song
I Saw Three Ships
The Ash Grove
The Princess Wish
O Tannenbaum
What Child is This
Friendship Fires
The Water is Wide Sing Along/Karaoke
I Saw Three Ships Sing Along/Karaoke
Christmas Medley Sing Along/Karaoke
The Ash Grove Sing Along/Karaoke
Children Go Where I Send Thee Sing Along/Karaoke
The Holly and the Ivy Sing Along/Karaoke
About:
MAHALOS!! This album was originally released in 1991 as a joint fundraising project with Jenai Wall and The Foodland Corporation, The Girl Scout Council of Hawaii and Legend Productions. The proceeds were dedicated to the new Hawaii Girl Scout Headquarters. In 1999, Legend Productions and GSUSA realized the "Evergreen" quality of the songs and music and wished to perpetuate those warm feelings around this project...thus, "A World of Peace." We wish to thank at this time all those who made the original project possible, and those who have contributed today, including:
MAHALO To.....Jenai Wall for giving so generously to your home community, To David, once again, and like before, you continue rise to meet the ever-changing new frontier!   Thanks to Brad White who appears courtesy of Revere Records. Mahalo to Hanne Knoll for the German refresher course. To George Mavrothalassitis...thanks for the great food and the French lessons! And to Joyce..for all your love and caring efforts on behalf of others, it's no wonder you're often mistaken for an angel!